Greenville, SC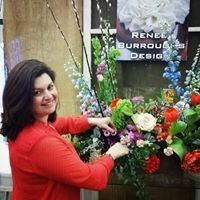 Renee Burroughs from Renee Burroughs Designs in Greenville, SC joins us in the studio to talk about all things floral design and wedding budget. Our conversation quickly jumps to some incredible thoughts on marriage and life lessons that every couple should hear!
---
Weddings from the Pros is Proudly Sponsored By
---
Everyone loves them, but almost no one knows much about them. We're working in today's podcast to demystify your questions around wedding flowers!
Beautiful florals can take the ordinary to the extraordinary. Renee Burroughs does an incredible job helping Kennedy and me understand what to consider when designing the look you want for your wedding and how to work with a florist to bring that vision to life.
Our conversation also included some really helpful information on wedding budgets and marriage that I think every couple planning their wedding should hear.
This talk ran a little long, so we're splitting this episode up into two parts – be sure to check out the second part of our interview as we deep dive into wedding planning 101!
---
Some of the topics we cover in the episode…
The process of floral design for a wedding
Advice for picking the right color pallet for your wedding
What information you should have when talking with a florist to get the most out of your meeting
Renee's biggest tips for couples when they're planning florals for their wedding
Renee's 3 biggest tips to help couples set their budget for their wedding
How to maximize your budget for wedding day florals
---
Connect with Nathan
Connect with Kennedy K.
Connect with Renee Burroughs
---
Did you enjoy this podcast? let us know in the comments!
Tune in for more tips from a Greenville, SC wedding photographer