Weddings are an incredible event. It's one of the few times you get to see and spend time with all your friends and family – the people who you are closest to in your life. I've seen many receptions where guests leave happy, and receptions where guests leave… early.
Want to make your wedding an event to remember? From my experience, here's what makes all the difference – and a great alternative in case you can't afford the suggestion.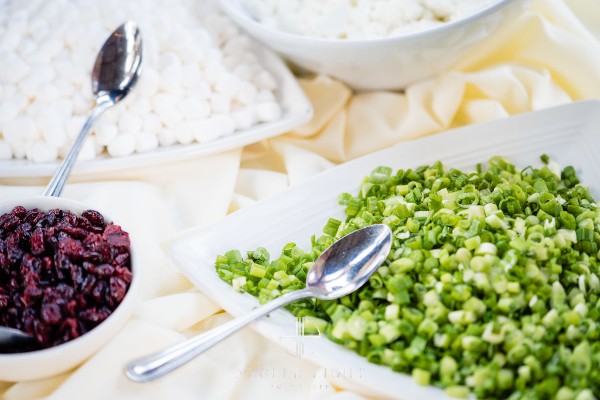 Tip 1 – The food is more important than you think…
Most weddings fall in the afternoon – evening time and let's face it… people gotta eat. In fact, having been well fed, your guests will enjoy themselves better dancing, drinking, and socializing!
If you don't have the budget for a caterer, consider planning your wedding around a timetable where you can offer refreshments instead needing to provide a full meal.
Tip 2 – A great DJ makes all the difference…
I've been to receptions that were just – awkward. Great DJ's do 3 things very, very well.
They can read the room and adjust music to keep people entertained and gettin' jiggy with it.

They can have a few really entertaining games to keep the night fresh and moving along if things start to slow down.

They help everyone know what's going on throughout the reception.
Many times couples think they can just hook up an iPod and create a Spotify playlist, but they forget their guests need direction. I've seen couples cutting the cake with no one watching because the guests in the room had no idea they were near the cake table! A great DJ not only plays music, but entertains the crowd and provides direction throughout the night.
Unless you want your friends to leave the party at the same time as your grandma (no offense to grandma), find a DJ with a great personality that will be the "keeper of the groove" at your event!
If you don't have the budget for a DJ – make sure you assign a family member or friend to the mic for the night and give them a schedule with a "script". Often times a family member is excited to help – you can even tell them that will be their wedding gift to you. 🙂
Tip 3 – Most people don't care about the old traditions anymore…
If the idea of throwing a bouquet through the air or having your man's head up your dress to "find" your garter in public makes you queasy – don't do it! Many brides are now opting out of those customs in favor of activities the entire family can enjoy throughout the night. Bring some lawn games, have a photo booth, and work with the DJ beforehand to create memories that will last a lifetime!
Tip 4 – Drinks never hurt…
Making sure the drinks are plentiful helps your family and friends who are meeting each other for the time relax and find common ground. Open bars really get guests excited and creates an appreciative atmosphere after your wedding.
If an open bar isn't an option, then consider providing a cash bar to guests who would love a drink to go with their dinner. Your friends and family would love the surprise of an open bar, but never balk at having the cash bar available instead.
As much as some people may appreciate the availability of amazing cocktails, beer, or wine at your reception, consider closing down the bar about an hour before the end. This will give your friends and family time to sober up and get ready for the drive home.
Tip 5 – Find the right venue…
Not only are you working to find a venue that fits your personality, but you want a space that ensures your guests are comfortable and can enjoy your wedding day with you!
Getting married in July? Everyone loves an outdoor wedding, but find a venue with both indoor and outdoor spaces so guests can cool off and have a comfortable place to socialize and catch up.
The venues where guests seem happiest provide several different spaces for people to eat and lounge. Since people can get antsy sitting around the same dinner tables all night, a change of environment will promote conversation and keep even your non-dancing guests entertained.
Look into renting or borrowing couches, chairs, and other pieces of furniture that you can then stage with pillows and votive candles in your wedding colors. If your venue doesn't provide alternate spaces, maybe you can bring in the essentials to create those spaces yourself!

---
Your wedding lasts one day… but your images last forever
Let us help you!
Angled Light Photography is Greenville's fastest wedding photography studio. We specialize in creating and delivering hand-crafted imagery that's genuine to the couple and their day.
Drop us a line if you'd like to chat over coffee. We'd love to hear about your wedding plans!
---